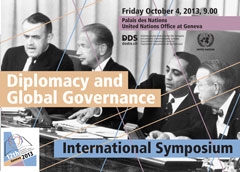 Preparations are running at full speed: The research group of the Diplomatic Documents of Switzerland is in the midst of organising the 12th International Conference of Editors of Diplomatic Documents and the International Symposium «Diplomacy and Global Governance».
Global changes in the edition of diplomatic documents
At the beginning of October, representatives from 29 countries will convene in Geneva: a definite record-number of participants for the 25 years since the network was created. The conference will take place at the United Nations Office at Geneva, namely the Palais des Nations, a particularly meaningful location for history of the 20th century. On the agenda: the newest developments in the field of editing of diplomatic documents. A particular focus this year will be on new technologies.
Editing projects in light of the Digital turn
Fifteen years ago already, the DDS launched the innovative project of their online database Dodis (dodis.ch). In the last months, the DDS have started a step-by-step updating of Dodis, launched the new e-book series «Quaderni di Dodis», as well as developing a Dodis iPhone app. Numerous other projects enabled by the digital turn have been developed and focus on the areas of digital publishing and social media.
Cooperation with the FRUS
Particularly important for the DDS is the presentation of a newly-launched collaborative project with the Foreign Relations of the United States (FRUS).
High-level representatives of the International Geneva
Supported by the State Secretariat for Education, Research and Innovation, the Federal Department of Foreign Affairs and the Swiss Academy of Humanities and Social Sciences, the Conference will also welcome representatives of the «International Geneva». The Director-General of the United Nations Office at Geneva, Kassym-Jomart Tokayev, as well as the Ambassador Alexandre Fasel, Permanent Representative of Switzerland at the United Nations Office and other international organisations at Geneva, will address the participants. Peter Maurer, the President of the International Committee of the Red Cross will give a talk on the experience of the ICRC in light of the shape of global governance.
International Symposium «Diplomacy and Global Governance»
«Diplomacy and Global Governance» will also be the focus of the International Symposium, which will end the public part of the Conference of Editors, on October 4. In an innovative setting, internationally recognized experts in the history of international organisations together with the editors will discuss the interaction between the diplomacy and shape of global governance. The chosen timeframe will run from the second half of the 19th century to the end of the 20th century, and the main focuses will range from Switzerland to the politics of the United States with regards to the Arab-Israeli Conflict.
The symposium is open to all. Registration is however mandatory by September 24 at geneva2013@dodis.ch.
The program can be downloaded here : Flyer-Symposium.pdf