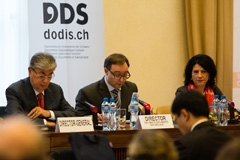 From 1st to 5th October 2013, delegations from 5 continents came together for the 12th International Conference of Editors of Diplomatic Documents, which took place at the Palais des Nations, in Geneva. The research group of the Diplomatic Documents of Switzerland (DDS) was responsible for organising the event with the collaboration of the United Nations Office at Geneva (UNOG) and the support of the Federal Department of Foreign Affairs (FDFA) as well as the State Secretariat for Education, Research and Innovation (SERI).
Top-flight talks
The Conference opened with an inaugural speech by the Director-General of the UNOG, Mr. Kassym-Jomart Tokayev (left in the photo with Sacha Zala, DDS (middle) and Blandine Blukacz-Louisfert (right)). Peter Maurer, the President of the International Committee of the Red Cross (ICRC), then spoke on the role of global governance. Other important items on the agenda were the reports given by delegates on their projects' newest developments, as well as the workshops in which current questions relating to editing – such as the issue of the many languages of diplomatic documents or the role of social media – were discussed.
Digital collaboration DDS-FRUS
The workshop entitled «Going Online and Connecting Diplomatic Documents – Possibilities of Digital Collaborations» gave the opportunity to present the new collaborative project between the DDS and the Foreign Relations of the United States (FRUS). Within the context of this collaboration, the FRUS are making use of a web service developed by the DDS, Metagrid (cf. http://history.state.gov/departmenthistory/people/root-elihu).

The birth of an international organisation
The high point of the Conference of Editors was the founding of the «International Committee of Editors of Diplomatic Documents». The Dutch delegate Marc Dierikx was elected founding President of this new organisation, and Sacha Zala, the Director of the DDS, was named Secretary General. Other Board Members come from Belgium, Germany, Ireland and the USA.
Public Symposium
The Conference ended with a public symposium on «Diplomacy and Global Governance». Over 150 participants were present at both panels, in which representatives from publishing projects as well as academics presented papers on diplomacy and global governance in relation to international organisations.
The next conference, which will take place in 2015, will be organised by the Office of the Historian of the State Department and will take place in the USA.