The international conference is an initiative of the research group of the Diplomatic Documents of Switzerland (DDS) and of the Diplomatic Documents of Italy (DDI).
This conference is part of the activities of the DDS 2010-2011 on the occasion of the 150 years' anniversary of diplomatic relations between Switzerland and Italy.
Giovedì 3 novembre 2011 ore 9–17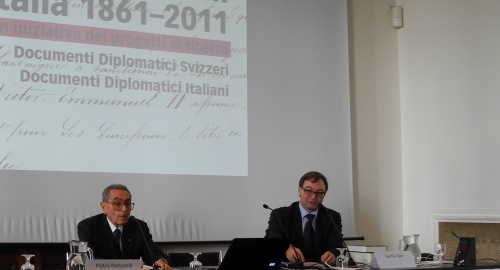 Biblioteca della Camera dei Deputati, Roma
Apertura del convegno da parte della Sen. Emma Bonino, Vice Presidente del Senato, dell'Amb. Mario Bova, Direttore Generale per l'Unione Europea del Ministero degli Affari Esteri e di Bernardino Regazzoni, Ambasciatore di Svizzera in Italia
I. Il Risorgimento. 
Presidenza: Francesco Lefebvre D'Ovidio
La Svizzera e il riconoscimento del Regno d'Italia
Pietro Pastorelli
Gli inizi delle relazioni diplomatiche
Ralf Heckner
Regno di Sardegna e Svizzera 1848–1861
Luigi Lotti
Carlo Cattaneo nel Risorgimento tra Italia e Svizzera
Carlo Moos
II. Dalla Prima alla Seconda guerra mondiale
Presidenza: Carlo Moos
Tra neutralità e sicurezza collettiva – la Svizzera di fronte alla nascita della Società delle Nazioni
Italo Garzia
La Svizzera di fronte al fascismo
Mauro Cerutti
Difesa spirituale, neutralità e cultura italiana – la Radio svizzera durante il fascismo
Nelly Valsangiacomo
Discussione finale
Venerdì 4 novembre 2011 ore 9–18
Istituto Svizzero di Roma
Saluto di Henri de Riedmatten, Responsabile scientifico, Istituto Svizzero di Roma.
III. La Seconda guerra mondiale
Presidenza: Paola Olla
L'Italia – un buon debitore. Ciò che per la Svizzera era rilevante, meno rilevante e abbastanza irrilevante, 1936–1943
Georg Kreis
La Svizzera neutrale, vista dall'Italia del Nord – rifugio, asilo, retrovia, 1943–1946
Gianni Perona
L'ère de la «combinazione», de l'amitié et de la méfiance
Hans Ulrich Jost
Presentazione dei Documenti Diplomatici Italiani

Presentazione dei Documenti Diplomatici Svizzeri
IV. Il Dopoguerra
Presidenza: Stéfanie Prezioso
Due scelte a confronto – Italia e Svizzera di fronte alla nascita dell'Onu
Luciano Tosi
I rapporti economici fino al 1970 – uno sguardo d'insieme
Martin Kuder
L'emigrazione italiana in Svizzera – lavoro, politica, diplomazia
Michele Colucci
Le relazioni tra la Svizzera e l'Italia 1945–1969 allo specchio dei DDS
Sacha Zala
Discussione finale