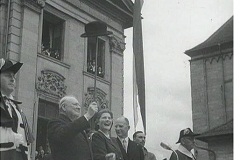 It was one of the greats of world politics who passed away on January 24th 1965, at the age of 90. Around the globe, the British war-time prime minister was commemorated, likewise in Switzerland: «Radio, television, and the press of our country have expressed the feeling of vivid gratitude of the whole of Switzerland to the deceased». (dodis.ch/31437, original in French) 
Switzerland and Churchill: a «special relationship»
Churchill maintained a «special relationship» with Switzerland. In the post-war era, as Switzerland was internationally criticized for its policy of neutrality, Churchill, now a conservative leader of opposition, would praise Switzerland to be «the only real neutral country» (dodis.ch/1204, original in French). In early autumn 1946, Churchill spent a month on vacation in a mansion on the shore of Lake Geneva at the invitation of people from Swiss financial and industrial circles (dodis.ch/1659 und dodis.ch/2184). At the ensuing visit to the government, he was euphorically received by the Bernese population. In private talks with federal council Max Petitpierre («a first-class man») he exchanged views on the commencing Cold War (dodis.ch/2185).  

«Let Europe arise!»
The highlight of Churchill's stay in Switzerland was his speech in the auditorium of the University of Zurich on September 19th, a flaming appeal for a unified Europe: «Let Europe arise! »  (dodis.ch/298). His home county, however, should, according to Churchill, not be part of the «United States of Europe» postulated in his Zurich speech. Indeed, Great Britain participated as little as neutral Switzerland in the European Economic Community ECC for the time being. Instead, both countries were founding members of the European Free Trade Association EFTA in 1960 (cf. e-Dossier dodis.ch/dds/1799).
Funeral and a «rough talk»
Due to the outstanding importance of the deceased, the Federal Council sent the head of the Federal Department for Foreign Affairs Friedrich Traugott Wahlen to Churchill's funeral in 1965 (dodis.ch/31437). Wahlen used his stay in London to meet the British minister of economy George Brown. Great Britain found itself in the middle of an economic and monetary crisis. The government reacted with a raise of prohibitive taxes, which ran contrary to EFTA principles. Federal Council Wahlen criticized the British measures as «unfair» and a «heavy blow for the EFTA»  (dodis.ch/31417). Brown was apparently heavily impressed by the «rough talk» and Wahlen's «rigor» (dodis.ch/31418).
In the years to follow, Great Britain and Switzerland would go separate ways concerning European policies. In 1972, Great Britain left the EFTA to join the ECC and thus became part of the united Europe Churchill postulated in 1946.