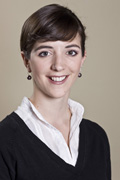 Ursina Bentele, born 1983, MA, studied history, English literature and linguistics at the University of Berne. Master thesis on the debate of gender equality in Swiss family law (right to a name). From 2007 to 2009 student assistant for the Diplomatic Documents of Switzerland, since May 2009 academic researcher.

Main fields of research
At the DDS responsible for Switzerland's relations with the US, Canada, Latin America and Southeast Asia as well as for general questions of foreign affairs and the policy of neutrality.